The Basilica of Sacre Coeur, Paris
Our daughter lives in Corsica, so my wife and I frequently travel to France. One of the most inspiring locations that we visit when we are in Paris is The Basilica de Sacre Coeur. Located at the summit of the Montmartre district of Paris, the Basilica de Sacre Coeur was built between 1875 to 1914. It was designed in a Romano-Byzantine style. The site has always had religious significance, being an early site for pagan rituals, and hosting a number of churches under later Roman rule. Despite throngs of visitors, Sacre Coeur exudes a feeling of serenity, peace, and awe, as well as some of the best views of Paris. 
The two oxidized green statues in front of the church are of King Luis IX on the left and Joan of Arc on the right. The white stone of Sacre Coeur is travertine limestone called Chateau-Landon, quarried in the Souppes-sur-Long region. When it rains this type of stone exudes a calcite making the building appear brilliantly white. In 1895 the 19-ton bell, one of the largest in the world, was installed. The apse of Sacre Coeur has a mosaic of Jesus Christ with arms extended and is considered one of the most impressive mosaics in the world.
On our last visit, we took the Metro to get to the Basilica from our hotel in Arrondissement 1. As Sacre Coeur is located on one of the highest points in Paris, the uphill walk would have been an effort. However, to return to the hotel we walked back downhill, rather than take the Metro. The neighborhoods that we walked through were delightful; amazing bakeries, restaurants, wine shops, and boutiques. 
The Basilica to  Sacre Coeur is a magnificent monument to faith and dedication, and to the city's fascinating history. To see more of my paintings of France, please visit here.
About David Harris Lang, Artist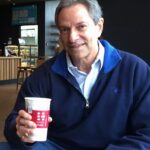 David Lang is an artist working in watercolor and pen and ink, an international architect, and an author. David believes that it is a basic human need to be able to express one's self creatively, and his art and writing emanate from this impulse. To David, art is storytelling. Read more about David.